By: Charles Grice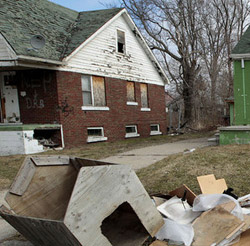 As downtown Detroit is reeling from its recent bankruptcy filing, in addition to having one of the worst housing markets in the country, it is also gathering the interest of foreign investors looking to make some money.
Many Chinese investors have been talking about investing in the city on China's social media network, Weibo, a Twitter-like service for China.
In March, long before the bankruptcy filing, a TV show in China aired with claims that investors could purchase two distressed homes for the price of a pair of good shoes.
Caroline Chen, a real estate broker based in nearby Troy, Michigan, told online news outlet Quartz News that she has fielded "tons of calls" from Chinese citizens looking to snap up properties while they are cheap.
"I have people calling and saying, 'I'm serious — I wanna buy 100, 200 properties,'" Chen recalled. She noted that a colleague had just sold 30 Detroit properties to a single buyer from China.